The growing field of information and communication technology can play an integral part in supporting UNFPA efforts to address SRH needs; especially when it's integrated in medical education system. In order for Georgia medical Universities to meet current requirements and trends of bringing teaching programmes to the European standards, modern, web-based online learning tools in Georgian language need to be introduced. In pursuit of this goal, and within framework of the Memorandum of Understanding between UNFPA Georgia CO and Tbilisi State Medical University (TSMU), in 2017, UNFPA CO supported introduction of the web-based E-learning platform with the aim of offering learning opportunities from distance to learners interested in getting knowledge and expertise; as well as, development of the first online course for evidence-based Antenatal Care (ANC) service provision to be placed on this platform.
On July 13, 2018, a presentation of the E-learning platform and on-line learning course on Antenatal Care was conducted at TSMU. The event was jointly organized by TSMU and UNFPA Georgia CO, and was supported by the Ministry of Internally Displaced Persons from the Occupied Territories, Labour, Health, and Social Affairs of Georgia.
Developed E-learning platform shall organize all the resources and content needed by the web-course, and realize the whole process of developing a web-based course, from creating new course, editing the course content, managing the course and approving content. Newly developed and placed on platform the on-line learning course on Antenatal Care is based on the most recent reliable scientific evidence and renewed recommendations from the World Health Organization. Course aims to capture the complex nature of the issues surrounding ANC health care practices and delivery, and to prioritize person-centered health and well-being, not only the prevention of death and morbidity, in accordance with a human rights-based approach.
ANC online course is intended for service providers, OB&GYN faculty residents and pre-graduate medical students, and will equip them with the basic principles and practice of antenatal care at facility level. The course is structured into three main sections: Learn, Practice, and Test. After successful compilation of the test medical professionals will be awarded with certificates.
The ANC course complements the traditional live training courses, and have the capacity to improve providers' access to modern medical developments, including family planning/reproductive health knowledge, without leaving their work space. This opportunity will support the availability of quality reproductive health services.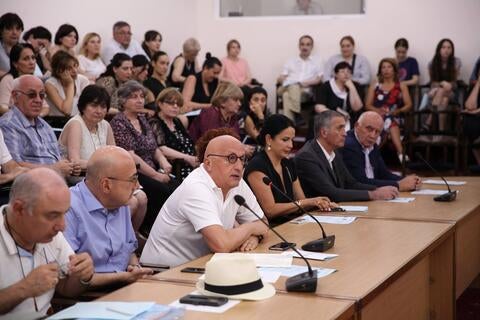 The presentation was attended by the representative of the Ministry of Internally Displaced Persons from the Occupied Territories, Labour, Health, and Social Affairs of Georgia, United Nations Populations Fund (UNFPA) Georgia CO, Tbilisi State Medical University, reproductive health experts, residents and students.